Rossendale businesses, get involved with the #Lancashire #Shoplocal opportunity for a free listing on the Visit Lancashire Website.
We've got some great restaurants, stockists & food producers that should be listed. Here is the info:

https://us8.campaign-archive.com/?e=__test_email__&u=4ee55ef67578e16297a9fb817&id=989a7ee312

#foodie #rossendale
@RossendaleBC is obtaining Expressions of Interest for a partner organisation to run Cycle and visitor hub and also a partner to run and manage a new Campsite @VisitRossendale

Interested? See details:
https://www.rossendale.gov.uk/info/210170/business/10745/working_with_the_council/3

#cycling #Rossendale #outdoors #camping #bike #Hike
Unfortunately the face to face engagement at Bacup Market this Saturday 7th November and Haslingden Market on Sunday the 15th of November have been cancelled due to the latest Covid-19 related Government announcement.
 
You can still feedback your thoughts. See graphic: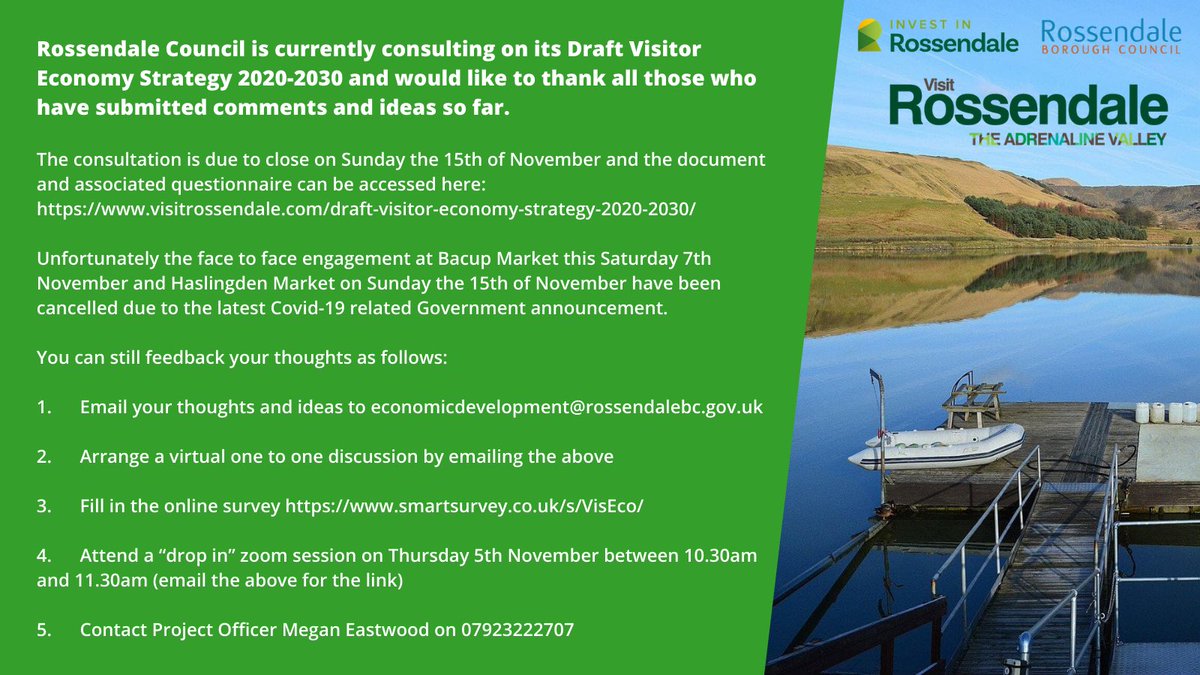 Rossendale Council
@RossendaleBC
We are currently consulting on our Draft Visitor Economy Strategy 2020-2030 and would like to thank all those who have submitted comments and ideas so far.
 
The document and associated questionnaire can be accessed here: https://www.visitrossendale.com/draft-visitor-economy-strategy-2020-2030/

@VisitRossendale @InvestInRoss
Needing something to do over the Halloween weekend? We've created a set of 5 Halloween Trails around Rossendale for you to do! Can you complete them all before the course closes on 02/11? 🎃🏃‍♀️ For full details please see post attached and visit https://www.pfo.org.uk/news/halloween-events #pfo
View Rossendale Council's Draft Visitor Economy Strategy and feedback your ideas here:
https://t.co/5o5IqvNnO8
Draft Visitor Economy Strategy 2020-2030 - Visit Rossendale
Find out how we will all work together to achieve our 10 year strategic aim - Growing Rossendale's Visitor Economy.
www.visitrossendale.com
Load More Tweets...